So, you want to play Football and Baseball 2001 online? Good for you! Here is a simple guide to help you get started!

You will need your own copy of Backyard Football (make sure it's the original 1999 edition; 2002 version is not supported) or Backyard Baseball 2001. Unfortunately these games aren't available to download on Steam, so you would have to buy these games from somewhere. We don't condone piracy around here, so we are not providing any download links, don't even bother asking.

First off, before you can download anything, be sure that you register your Coach name first! Once you've done that, feel free to proceed.

Once you've got the game and your name all registered, then you can download the latest version of our online-supported ScummVM! Right now, we only provide prebuilt builds for Windows (macOS builds are coming soon). But you can compile the project yourself if you're up for it. You can freely download the source code here, be sure to read the README file provided.

After you've gotten ScummVM downloaded and installed, you can add the games by clicking on the "Add Game" button and then point it to where are the game files are. Typically, that would be your disc drive, but if you want the best performance, you can just copy the files over to your hard drive somewhere.

Then, you can just load up the game you'd like to play, and go to the Online Play menu (or JrSN if you're playing Football), and enter your Coach name and password. If everything goes correctly, congratulations, you can now play some ball online! Your Coach name will work with both Football and Baseball 2001, so you can switch games as you please. Have fun!

Custom Teams
Since version 2.0.0 of our online-supported ScummVM, you can set up custom teams for Backyard Baseball 2001 online play! These teams can include your favorite backyard kids, pros, and even the "generic" players you face in single-player season play. First, login and go to the teams page. Then, create a team with whatever players you want and make sure it's active . Find an opponent in our Discord server or in the online play lobby; make sure they have their own custom team set up and active. Challenge them to a game in Prince Rupert to play with your custom teams!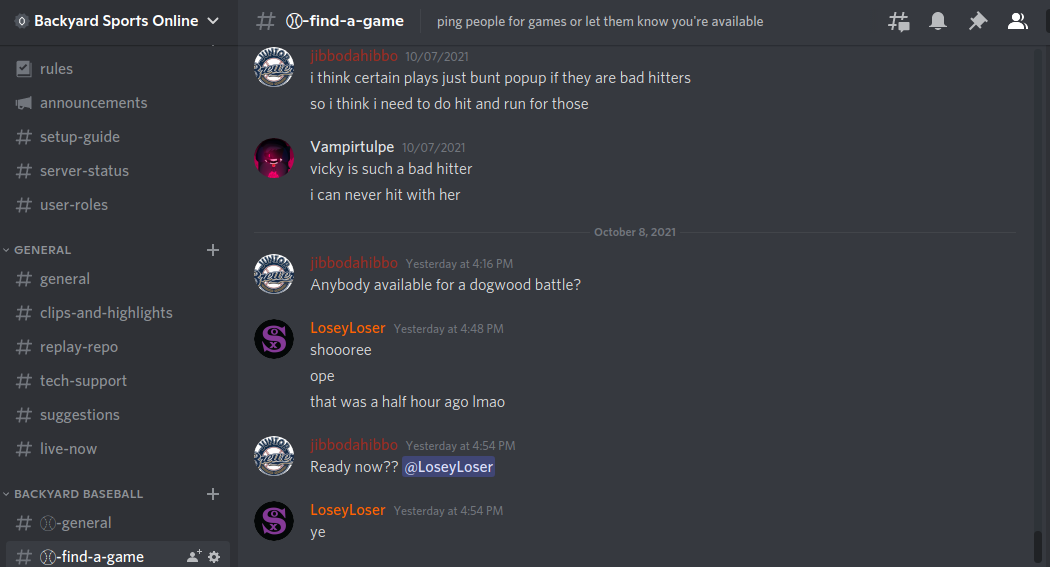 If you want to join a community to find fellow players who are usually up for a game or two, you can join our Discord server! we also share news about the service, and even host tournaments and leagues! If you're don't feel like joining this discord, that's no problem. This is completely optional and not a requirement to play in this service, but we always welcome new visitors though! Feel free to drop by!